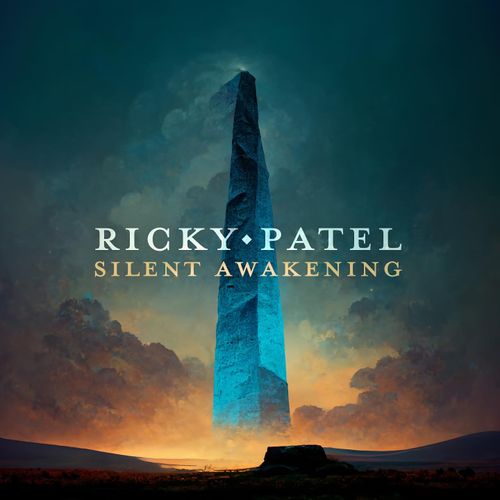 Ricky Patel – Silent Awakening
Release Date: 28th October 2022
If you're not familiar with Ricky Patel, or even cinematic rock music as a whole, you're in for a bit of a treat. Getting on for 12 months ago now the album Silent Awakening was unleashed upon the world and at nine tracks and nearly 50 minutes of run time you can probably gauge what kind of album we're going to be looking at here.
From the very start, as waves crash over delicate tones it's obvious this isn't a run-of-the-mill piece of art. As the intro track 'Nil' opens out into 'The Maw' there's a sense of industrial freedom that comes with it. This is where the journey really begins as the combination of softly sung lyrics and abrasive tones combines beautifully. As the song progresses the landscape for the whole album is laid out in front of you, a mixture of clean, focused melodies interspersed with a degree of grittiness that gives the whole piece depth.
Where Silent Awakening differs from a lot of modern music is that the full product has been considered throughout. From the artwork, to some of the photography contained within, this is an artsy piece that steers clear of conforming to the standard concept of alternative music. It's a bit of a cliche to call it 'cinematic' but there is the feeling of a story running through it, being brought to life by progressive sounds and experimental ideas.
The true strength of the album, outside of that ability to paint a picture with music, is the variation on show. For every 'The Maw' and it's heavier, dirtier vibes, you have 'Glasspane' and the almost pop-esque vocals and its delightful essence that has that effect only music can really have of picking you up on a cloud and transporting you away from the mundanity of everyday life.
The journey continues throughout the full run time of the piece, looping back to that industrial vibe as tracks like 'Ritual Ink' come about, though this time it's not just grittiness, there's an electronic element here that develops the sound launches into the 15-minute power couple that is 'Matador' and 'Noct/ Of Kin'. The moodiest pair of tracks of the album for sure, but with more depth in the former alone than most albums can muster throughout. As the album hurtles towards its conclusion, 'Noct / Of Kin' feels like the most traditional of rock tracks and has an uplifting vibe. Something which works well to draw the album towards its final track, 'The Prow', and forms part of a fitting trio of tracks to see out the album after the adventure it has transported you on.
Overall, this is an album that rewards your attention and rewards multiple listens. An album that is ripe for sitting down with a glass of red and experiencing in full. You can give Silent Awakening a spin here:
Pick the album up here if you like what you hear: rickypatel.bandcamp.com