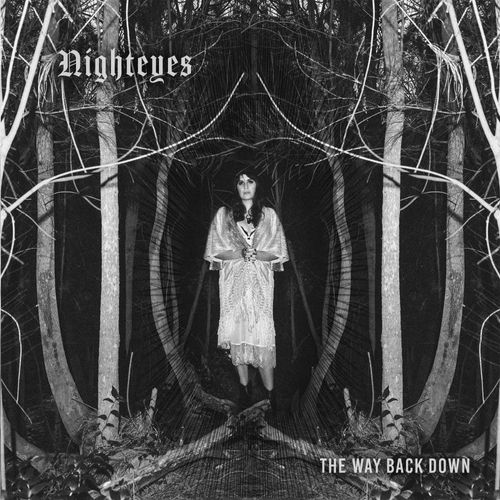 Nighteyes – The Way Back Down
Release Date: 9th November 2023
Often when something is described as 'dark' or 'haunting' there's an expectation that it's just going to be guitars chugging away with some slightly uninspired lyrics. There's so much more it could be though and that is what Rachel Trainor wanted to showcase with The Way Back Down. Here darkness means more than just unrecognisable words in an angry soup, the New Zealand-born solo artist is bringing depth musically, vocally and visually with her project Nighteyes.
'Down By The Sea' opens proceedings with a slow, deliberate, almost psychedelic rock track that seamlessly melds a story of lost love and doom-esque pacing to the track, being both slow paced but frenetic. 'Lowlight' follows and steps up the electronica vibes with a beat that belies the atmosphere of the opener. On this track the vocals open up. Where the opener felt introverted, 'Lowlight' takes the electronica vibe that kicks and matches it with bigger, almost 'pop' vocals. 'Down By The Sea' is a strong opener and 'Lowlight' feels like it has taken the shackles off for the rest of the piece.
Through 'My Only One' and into 'In The Wake' sees Trainor continue to expand musically and vocally. The latter here is probably the greatest vocal work on the album too. Here the 'haunting' element is at its strongest with so much emotion being portrayed through Trainor's words. On an album that is of such consistently high quality throughout, 'In The Wake' showcases everything that is great about it.
Before you know it, the end of the album is approaching. 'Plenty' ironically signals the beginning of the end and is one of the more sombre tracks initially. That doesn't last though as the biggest transition within one song points the finger back at all of us and the impact that we're having on the world. 'Plenty' is the lead single and it's easy to see why, standing out for the initial considered approach before building up to a huge release and dying back down. Echoing what has happened to the planet over the past few millennia and where it could all end up without change.
'Third Eye' and 'Spiral' are the closing pair of tracks. The former returns back to the opening track's darkness and explores the depth of the family as a function over time before 'Spiral' closes out with a track that feels much more optimistic, in a musical sense at least. Overall though, The Way Back Down is a unique piece of music, something that can't be said often in today's landscape, and one that feels like it comes straight from the soul.
We're all about supporting independent artists and you can do just that by heading over to the Nighteyes Bandcamp and picking up some digital or physical merch.