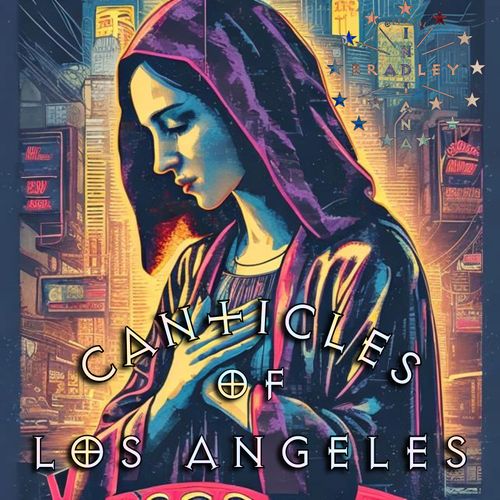 Indiana Bradley – Canticles of Los Angeles
Release Date: 5th November 2023
The second release of the year, and third overall, from California-based punk-rocker Indiana Bradley. The six-track, 25-minute EP follows Pale City, a record of the same length released almost six months to the day prior. On Canticles of Los Angeles, Bradley has branched out, adding further instruments to his repertoire. Something that can only be a good thing.
Kicking the EP off is 'Simulate', the shortest track of the six by well over a minute. The short, punchy opener has airs of early rock 'n' roll as, especially in the intro, with vocal stylings feeling similar to punkier bands like the Ramones. It is a fast and fun opener, though it is a little heavier than almost all of the rest of the record.
This is evidenced by the 80s synthy styles of the next track, 'Silent Moon'. Where the opener was full of energy, 'Silent Moon' feels more restrained and considered. The intro could be plucked from any drama from the era and when this subsides we're left with the sort of track you can have a decent little bop to. 'Rival's Plunder' up next doesn't feel too dissimilar to its predecessor in terms of era, aside from the vastly deeper vocals that give the song great depth.
'The Breach' continues the slower section of the EP, providing more of a respite than the previous pair of tracks though as the repeated lyrics through the song become almost a chant by the time the climax of the song comes around. This leads perfectly into 'This Is Where The Pirates Are' where we again see a repeated set of lyrics, the title of the track in fact, but with more energy throughout. The darkest track on the album musically leads nicely into the closer, 'Timeless We Will Be'. This one is back to the 80s with that synthy vibe returning and ploddy vocals. An apt end for a selection of tracks that moves from bouncy through to contemplation.
Canticles of Los Angeles is a varied effort that has many shades of decades gone by. At no point do you listen to the album and think to yourself 'well that sounds just like X, Y or Z'. Head on over to Bradley's social sites to keep up to date with what's next. Facebook, Instagram, YouTube.