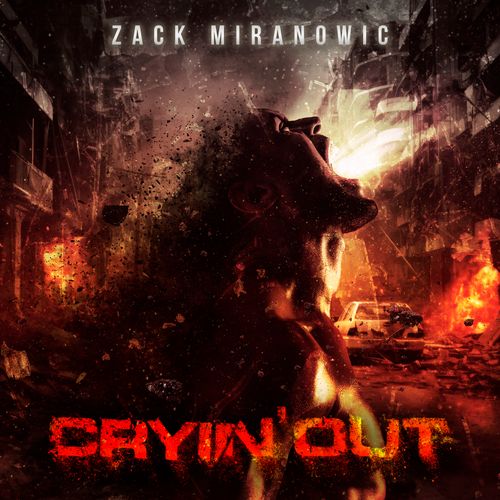 Zack Miranowic – Cryin' Out
Release Date: 13th October 2023
From Southampton, New Jersey we have Zack Miranowic, the rock and metal guitarist who started putting out his own stuff over the past 18 months, free from the restrictions of the pigeonholing that can come with being in a band. The four track EP has a lovely degree of variation but consistently keeps heart and soul at the core of its sound.
Opener 'Seems Like Yesterday' is a gentle introduction to Miranowic's styles as a solo artist for anyone not yet privvy and at under two and a half minutes feels almost too short. The softest track from the record eases the listener in with classic style vocals but the focus on the track, as it is for most of the EP in truth, is the delicateness that a deftly played guitar can bring.
'Live Again' follows and despite the overall vibe of the track not being too dissimilar to the intro, the underlying calmness at least evident at the beginning of the song, this track shows how sometimes being 'heavy' isn't about cranking everything up as loud as it will go. Similar can be said for the EP's title track as 'Cryin' Loud' takes the emotional aspect of the opening pair of tracks and amplifies it massively. "Time flies and then it's gone" wails Miranowic with the track having similarities to the likes of City & Colour, where musically it is a delight to listen to and the lyrics are powerful but often passed on.
Closing out this short journey is 'A Matter Of Life And Death', by far the meatiest track on the album with the prog dialled up far enough but not so far as to dissuade more casual listeners from moving past it. This final song is a dystopian fantasy adventure wrapped up in an instrumental masterclass. Taking that step into solo work can be daunting for a musician, the constant comparisons with the 'day job' band will be something that can be hard to overcome. Here though Miranowic has put out a short EP with a lot of character and showcases his talent as a songwriter and musician well. Support him if you can over on his Distro Kid.