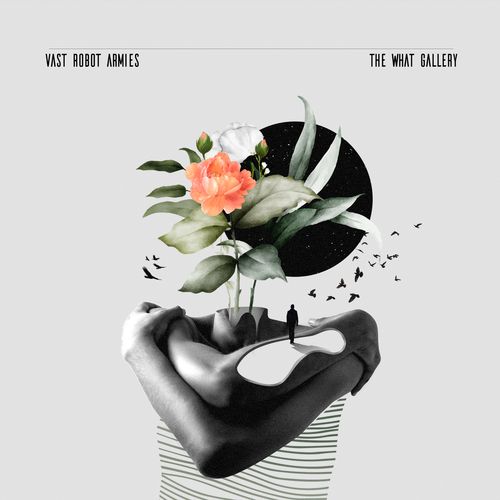 Vast Robot Armies – The What Gallery
Release Date: 6th October 2023
The What Gallery sees something a bit different land on your lap and in your ears. Something a bit different both as a listener but also for Vast Robot Armies themselves. It's only fair that things get a bit changed up though, this is album number four after all. Here, the band expands, bringing in members of the indie-rock crew Shiner to the recording process. Something that, yes made things a little easier during that creation process, but most importantly brought a different shape to the record.
There's something simplistic about this album as a whole. It fits perfectly in the grasp of an indie album, not needing to do anything more than that, content in its own skin. 'Like A Bug' kicks it off and the Queens Of The Stone Age vibes are powerful here, from the Rated R-esque vocals to the moody guitars. The track has a feeling of ease, like the world just got a little simpler whilst you're listening to it and that's a concept that continues through 'Passengers' into 'Not Quite Right'. The latter here being a superbly orchestrated rock track with a fun drum beat to it.
One of the big highlights on an album that is consistent throughout is props up the back end of the release, in at track six. 'Taking Back The Time' picks up the indie elements of the record so far, makes them a little rockier and adds in some more psychedelic vocals. This addition to the album would be at home across so many of the past 5 or 6 decades of music and the overall vibe picks up from there with 'Penny Candy' feeling like the next chapter of the same book. Vocally there's a more intricate flow here with some delightful backing vocals that elevate the track further before closing track 'Head In The Box' signs us off. Thankfully it's not a Se7en situation with the track being raw and more bass driven than the rest of the album. This finale feels like a melding of everything that has come before it. Open instrumental sections give the floaty vocals a break before it all comes together for a tootle off into the sunset.
Album number four is out in the world. It has been a decade coming and you can feel the maturity oozing out of it from all corners. There's influences from the past few decades sprinkled throughout and this is the culmination of a decade of a solid band. You can support Vast Robot Armies by picking up this and previous releases from their Bandcamp.