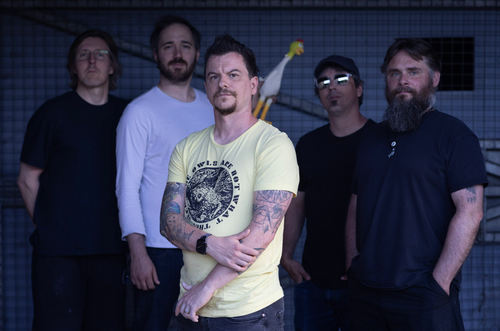 Shaven Primates – Birds Aren't Real
Release Date: 28th July 2023
If you've been wanting some old-school vocals over some dark-wave mixed with alt-rock then, first, good effort that's super niche and it's impressive you know what you want to that degree of detail. Secondly, and much more importantly, get Birds Aren't Real by Shaven Primates on. Immediately.
Racking up just over 25 minutes long, this piece does a lot to draw you in. Across the quintet of tracks you can feel vocals in the style of Iggy Pop, Jim Morrison and even The Stranglers' Dave Greenfield. A veritable feast for any discerning music fan.
Opening track 'Fade Away' doesn't so much as set the scene as it does pick up the listener and at least give them a bit of a taste of what's to come. Its 5-minute run time feels like a journey from start to finish, again in the ilk of 70s icons like The Doors. The psychedelic vibes pulling in all directions.
From there you have tracks that feature jibes at modern-day cancel culture and how you just can't even say that nazis are bad anymore, you get a slower affair in the opening minute of 'Unmasked' before hell is unleashed and an emotional rollercoaster of a track reaches a crescendo and subsides time and time again before finally, you get the closer 'Birds Aren't Real', the real fan favourite, where some proggy influences finally claw their way to the fore and are thrust upon the listener whilst being mixed in with the heaviest guitars on the record.
At just five tracks, the EP does come and go too quickly in truth, but while it's here it's great fun, doesn't take itself seriously and features decades worth of influences. What else could you really ask for?! If you want to buy the album, head to the band's Bandcamp and pick it up!