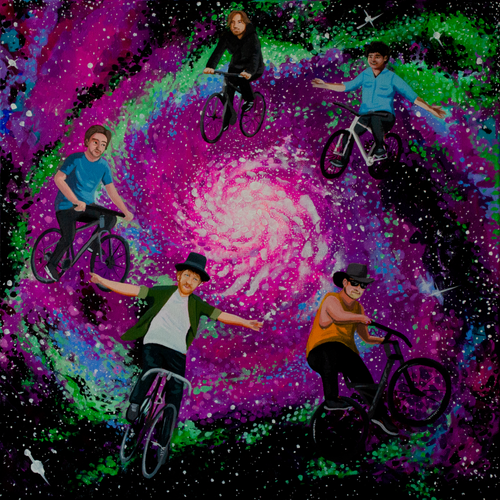 Suburban Bicycle Gang – In The Cosmos
Release Date: 17th May 2023
Candian indie rock specialists Suburban Bicycle Gang are back once more with a brand new album, In The Cosmos, a psychedelic, funky-ass 10-track record that is a nigh on immediate aural transportation back to the 60s, with elements of the 70s, 80s and 90s indie in there too. It certainly is fitting that a band for whom each and every song feels like a journey.
The band's debut, Softballs Are Too Hard, came out pre-covid and it has been a long old wait for new music from the quintet. That wait ends with the album's opener and title track, 'In the Cosmos', a song that does everything to bring the very essence of its name to life. The stage is well and truly set by the time 'In The Cosmos' comes to its conclusion. This is an album that is all about having fun and, thankfully, not taking itself too seriously at all.
In The Cosmos as an album racks up the better part of thirty-five minutes by the time the smuttiest named track on the album, 'Glory Hole Of Death' rolls around. The preceding half an hour, combined with this closer, take the listener on such a wild journey. One that takes inspiration from pretty much all areas of the past 60 years of music. 'Bobo The Hobo' has the hallmarks of some of Led Zep's crazier efforts before 'Five Flings' gives off some Beatles vibes, though with a tad more bite to the track.
One of the main highlights of what is an album full of at the very least interesting songs, is that each track just feels like it runs in to the next. No wasted blank space anywhere. Most impressively with that though is how the style changes up each track too. It would be easy for the 10 songs on offer were to merge into one another, to start becoming a replication of one another. 'Candle Lights's The Doors-esque vocals combined with some lovely wind instrumentals couldn't sound further away from the previous track, 'Easy Money', and its return to the album opener's more 60s vibes.
For many this album may not be anything like what is expected from an indie band from North America, though when you think about it… in one way or another batshit crazy is the norm up there. With inspiration from the classic running rife throughout the piece, every track has a feeling of being almost familiar. Of being something you've heard before, but just not quite like this. In truth, it's quite comforting to find something that feels unique in the modern world of music, but is so heavily grounded in the foundations of rock around the world.
Find The Band Here: YouTube | Website | Instagram | Bandcamp | Facebook